Prom Season Is Here!
Bring in or show us the coupon below for $40 off any of our designer tuxedos!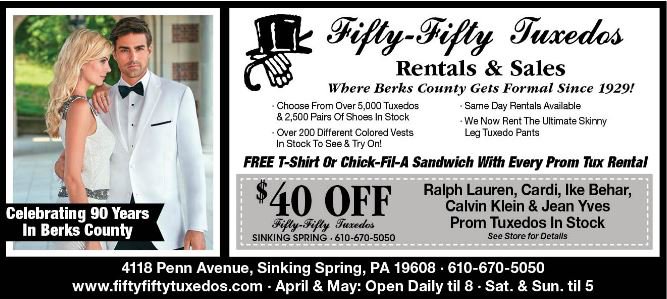 PROM FITTING STEPS:
-Step 1: Find out the color you need.
-Step 2: Stop in to see tuxedo styles, choose colors, and get fitted.
-Step 3: Pick up your tuxedo rental the day before the prom. TRY IT ON!!!
-Step 4: Return your rental the day after you use it.
Dress rentals start at just $49!
Stop by and check out the latest arrival in 50/50's prom dress lineup. Our newest additions come in a range of vibrant colors and sizes to suit your needs.
Be sure to check out our promotions here! →
Prom Tuxedos
Berks County's Tuxedo Experts
Fifty-Fifty Tuxedos also has the largest in stock selection of tuxedos in Berks County. Over 4,000 tuxedos and 2,000 pairs of shoes in stock for you to see, feel, and try on.

No matter the occasion, Fifty-Fifty Tuxedos will have you looking your best this prom season!